Pop-Up Bike Lanes
Standing along Pine Street in St. Louis, watching a pop-up bike lane in action, I struck up a conversation with a 64-year-old MetroBus driver about bicycles. As a kid, he would ride through the streets of downtown St. Louis balancing on his handlebars. His antics landed him in the hospital more than once. "I gave my mother the fits," he says with a smile.
I had traveled to St. Louis with city council members Ian Thomas and Mike Trapp for the New Partners for Smart Growth Conference. We spent the morning watching volunteers temporarily transform a section of street into a protected bike lane, and we spent the afternoon in a DIY workshop leaning how to make these quick, cheap, and temporary changes ourselves.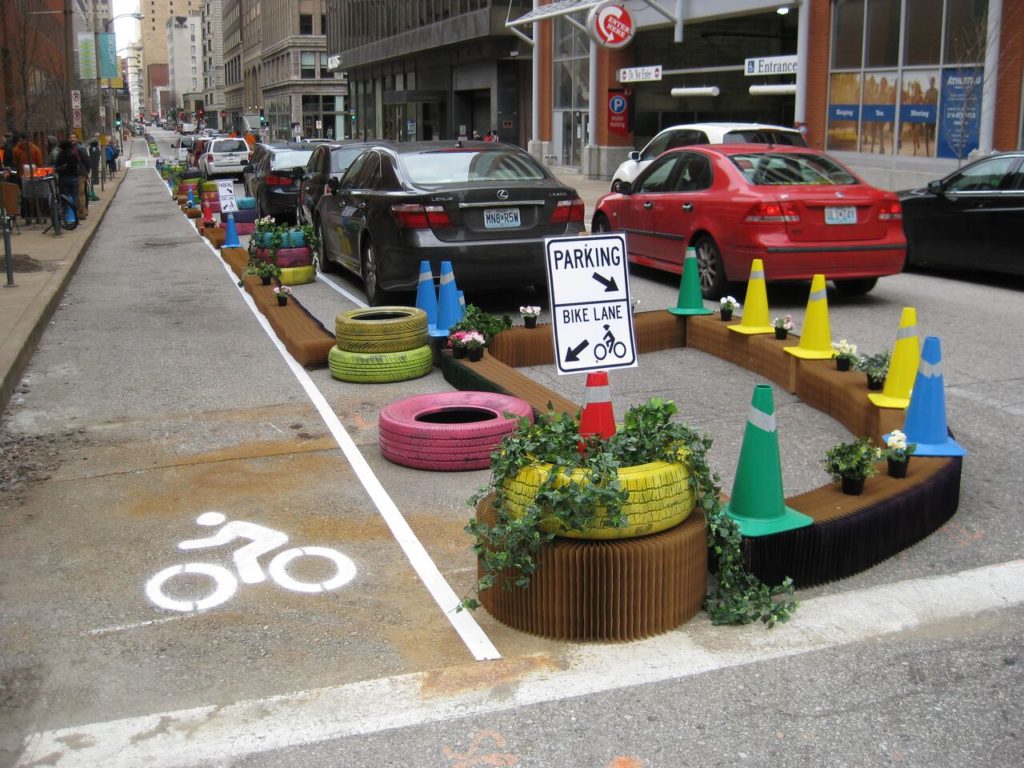 The volunteers somehow turned colorfully painted tires, potted plants, temporary signs, and a lot of white duct tape into a bike lane for the day. As bikes and cars travelled down Pine, volunteers adjusted the tires and added signs based on what they observed. It was a playful and functional public space — and a tangible start to a permanent bike lane.
To a casual observer, the Business Loop doesn't have a lot going for it when it comes to accessible and welcoming public spaces. Limited sidewalks, crosswalks that are few and far between, and missing curb cuts send a clear message to people on foot and on bikes: You aren't welcome. But The Loop does have an asset other areas of town don't, which is space between the curbs — a full five lanes of road waiting to be transformed. And in the words of Janette Sadik-Khan, the visionary head of New York City's Department of Transportation, "If you can change the street, you can change the world."
I stood there a while longer with my new friend, the Metro driver, watching people travel up and down the bike lane. As he regaled me with stories of his fearless youth, I marveled at how infrastructure is often less about building a street than it is about building a community.